Days 15-17 away from home – Days 8-10 of treatment – I am finally HOME!!!
Friday I sewed like a mad woman on the project for the kids which turned out awesome but required more hours than I expected.
Saturday I slowly and meticulously wiped everything down and packed up.  I had to wipe down anything I had touched while the radio-iodine was still in my system and able to pass through my skin.  I was careful to only touch what I absolutely had to during that time and wore rubber gloves as much as I could during the more crucial 72 hours.  We had washed all my clothes and linens during my stay and now I just needed to wipe down the stuff.  It took me all day on and off working and resting but that night we loaded most of my things in the car.
Sunday morning was technically between day 9 and 10 but the boys Primary Program at church was that morning and I really wanted to go.  They had both practiced so hard to memorized their little parts.  So I left my isolation one day early and went to the program.  I sat in the back of the meeting, and I even sat 2 rows behind my family totally away from people.  Miriam spent the entire meeting trying to get through the chairs to me because I literally came home 10 minutes before the meeting, grabbed a skirt and rushed over to the church.  So the first hour I spent with my family was at church.  Miriam was so excited to see me and Tom had to be creative to distract her and keep her away from me.  I wanted to be as careful as possible until I was sure I was in the clear.  The boys did so well and I was so glad I had gone! I slipped out of the meeting trying not to get close to others.  We had a lovely first day home and I even took a giant nap.
CONTINUED MIRACLES!!!! – Monday morning I went back to the Dr and stood in front of a Geiger counter to measure any radiation I was putting off.  The Technician stood 3 feet away and couldn't pick up any radiation.  She stepped closer and closer and then put the sensor next to my neck and was able to pick up some radiation but the alarm didn't go off so it was within safe amounts.  She looked up and said "Go home and enjoy your babies!".  I was so thrilled.  I wanted so much to be home and care for the kids again and so Tom could go back to work but I was nervous until I knew how much radiation I was subjecting them too.  If Heavenly Father can build an entire Universe he can do anything.  He blessed the surgeon so much and because there were little to no thyroid cells left in my neck there wasn't a lot for the radiation to sit and work on so most of it had left my body.  YAY!!!
This is what the Geiger counter looked like, except theirs was brown – seriously I felt like a character in a Star Trek episode being scanned, or some kind of mutant under observation.  The lady was super nice but it was still weird.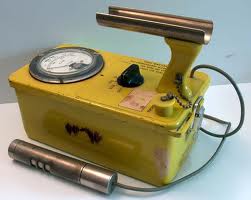 I am so excited to be normalish again.  I got in the habit of moving away from others and now I don't have to be afraid of harming them.  I just loved rocking Miriam before her nap today and carrying her to bed and tucking her in, all while knowing it was safe for me to do that.  I'm a happy mama.
The past month has been a strange sort of time warp but I think we will quickly adjust to all going back to normal.  Tom worked from home Monday to give me a day to ease back into things.  I needed it.  My mental state is a little delayed due to being so hypo and my muscle strength is not top notch.  Having just the noise of three kids and the physical demands is way more than it requires to sit and quietly sew all day.  I am much more tired this week than I was last week.  I'm so glad to be home but I am also so glad the ward is still doing dinner this week.  Today was my first day back to regular life and I'm glad I don't have to worry about dinner tonight.  In about a month I should have my strength back and until them I plan to just cover the basics around the house and take lots of naps.  This all happened so much faster and easier than we anticipated.  I am in awe of all that happened and how fast it was.  I love being able to laugh and joke and say… so, remember that one time I had cancer!  I'm glad this phase is done and I think it was the biggest part.  If I need to do more treatments down the road I am confident the Lord will see us through that as well but for now I think I can safely say it's all done and now I just need to return to routine.
There are so many people who have helped us and I am so grateful.  Especially to my parents, my brother Michael and to Tom for all the things they did to provide for me and my family.  THANK YOU!!!!!
I am eternally grateful for the love and support that Heavenly Father poured out upon us and it has changed me forever.
– Julie