Isolation log:  The surroundings seem stable and conducive to normal living, but as far as observation can report there are no….children….what am I to do??
How strange to have time to myself, seriously, don't quite know what to do with it all.  Dinner clean up took like 24.6 seconds, that's an extra 30 minutes to myself just right there.  Good thing for books, NETFLIX, and that my parents talked with me from the next room through the doorway for at least half of the day.  I know they will have to return to their daily stuff tomorrow but it was really fun to just talk for hours.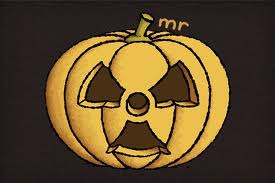 My dad brought me a house (aka mutant cave) warming gift, I put it on the fridge.  It's a radiation warning sign (the top image).  I laughed so hard, he was relieved I didn't cry.  Just before he got home from work with the sign I found the pumpkin radiation picture.  I find it fitting for this weekend.
I'm getting used to being cautious of where others are in the basement, occasionally standing in the corner when they needed to grab something from a closet in the apartment, and resisting running over and sitting next to them on the couch.  We did watch a movie together.  I sat at the back of the room and they were a good 10 feet away from me.  The test dose is so low I can do that today.  Next week we will have to be more caution for the first few days of the treatment.  We watched Captain America, I also found that fitting today.  I guess I related with him because we both had weird medicine, but his actually glowed.  Too bad my treatment won't make me the strongest person around.  I'll be happy with just being a regular person again!
Thank you for all your generous love and support.  I am overwhelmed by the outpouring of kindness we are receiving.  I know we are in the midst of a modern day miracle and I feel carried and supported by all your prayers.  If I could be so bold to ask, can you please pray for my little Josh? It's been especially hard for him.  He is old enough to be very aware I am gone but young enough to feel lost and not understand how to process it.  Caleb is logical enough to understand and put worry out of his mind, Miriam liked waving and blowing kisses on the video chat then asked for milk and went to the kitchen.  Josh was nervous.  Tom said he did better through the day but he needs all the comfort he can get.
Today's blessing: VIDEO CHAT!!! So comforting to see all their faces and be involved with the day to day just by watching them play.
Love,
Julie