Well, I realize I have neglected my updates and I am sorry if I have kept you all wondering.  I had so much fun this week and I was too tired (and or lazy) at night to do any posting.  All is WONDERFUL and I am happy to report everything is going well and my news from Dr.'s just keeps getting better and better.
Day 4 – Halloween
I went for my scan in the afternoon and it was a pleasant enough of an experience as I think a person could make of it.  I laid down on a very narrow "bed" table thing and they wrapped and big velcro thing around me to hold my arms perfectly still against my sides.  It looked like a 18 inch wide blood pressure cuff that went around my middle and arms.    I asked the tech, "I am going to go flying off this and hit the ground?"  He just said, "Don't wiggle and you'll be fine."  Turns out he was right, once I was settled I didn't feel so much like I was hanging off the end of a cliff with no arms to catch myself.  The scan moved from my face to my knee and that took 30 mins.  It then sat just over my neck area for an additional 10 mins to get a good look at the thyroid area.  He said I was safe to be in public now and only needed to keep my distance now that most the radioactive iodine, being such a small dose, had made it's way out.  I hopped up and was on my way.  I drove straight to my house and surprised my Tom and the kids by bursting into the house unannounced.  We packed up in costume and drove to my parents neighborhood and trick-or-treated to about 15 homes and called it a night.  I stayed at my parents and Tom and the kids went home.  It was SO GOOD to see them and give quick little hugs.
Day 5 – Tuesday
Since it was safer to be with people I went home just after lunch.  I prepared all my food before I left so all I had to do was heat it up and didn't contaminate our kitchen at home.  I didn't hold the kids and wore disposable gloves the whole time.  The boys were in school and Miriam was sleeping so that way I could be home more with less exposure to the kids.  Tom and I did house work and paid bills (super fun) then had nice family time during the evening.  I came back to my parents just as the kids were going to bed.
That afternoon I also got the results of my scan.  NO RESIDUAL THYROID CELLS!!!  Amazing, unheard of, NOT typical, remarkable, and another DIRECT MIRACLE!  My surgeon did a wonderful job and with the support of a loving Heavenly Father he was able to get it all out.  So my Dr may not have recommended to go ahead with the treatment, but I did have a blood test show elevated Thyroglobulin levels, which is used as a cancer marker.  It was 9 and it should be 2 or less, so they decided to do a smaller dose of radioactive iodine just to be careful and as proactive as possible against future problems.  So the dose is 50 rather than 100 or 150 (to give reference the scan was only 4).
I am thrilled that the results were so good and that the dose is smaller.  The precautions the dose do not change at all, it's is still 10 days of isolation, but I am pleased to have less of that stuff running through my system.
Day 6 –  Wednesday
I went home again that day for the afternoon and early evening.  It was wonderful to be home and I had TONS of energy and I couldn't hold still so I got to work.  While the boys were at school and Miriam slept we swept and cleaned the porch, took down the Halloween decorations, packed up all the costumes, cleaned out the fridge, scrubbed down the kitchen, mopped, de-junked the desk, and hung up some art work that I'd been meaning to get to for months.  After the kids were home all 5 of us went to the back yard and winterized the entire yard.  Even Miriam pitched in.  Her job was to gather up all the tomatoes that had fallen off the vines when we ripped out the plants.  I edged the lawn and Caleb mowed and Tom and Josh raked and cleaned up the last of the plants.  It was SO FUN and so refreshing.  We quickly had dinner and tucked the kids into bed and I headed to my parents.
Day 7 – Thursday
I was feeling lazy after working so hard and from staying up WAY to late with my parents and siblings too many times this week.  It has been so fun to visit with them.  So, after being lazy that morning I quickly got ready and went home.  Tom took me to get a hair cut I was in major need of and then we went home.  I LOVED that entire day.  The kids were so sweet and I think it was seriously one of the days that is just a gift from heaven.  No arguing from the kids, everyone was happy, we finished up a few small project while the kids were gone and Tom went to Costco.  We all talked and laughed our way through dinner and everyone was just content.  Then we enjoyed a quiet evening together and got the kids in bed.  I am so BLESSED!
Day 8: Day 1 of treatment – Friday, 7:00am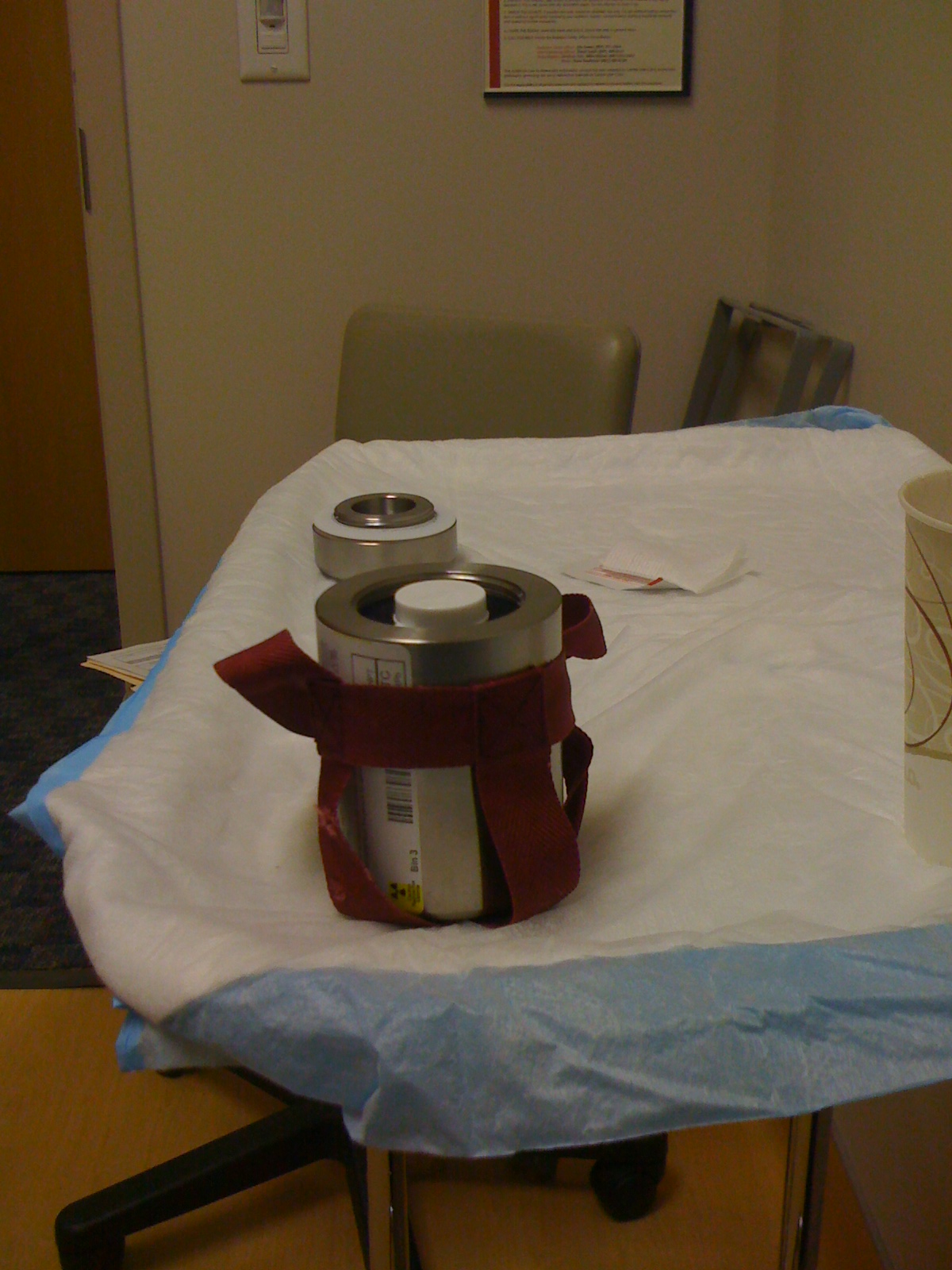 If you look closely you can see my name on the pill bottle below – CRAZY!!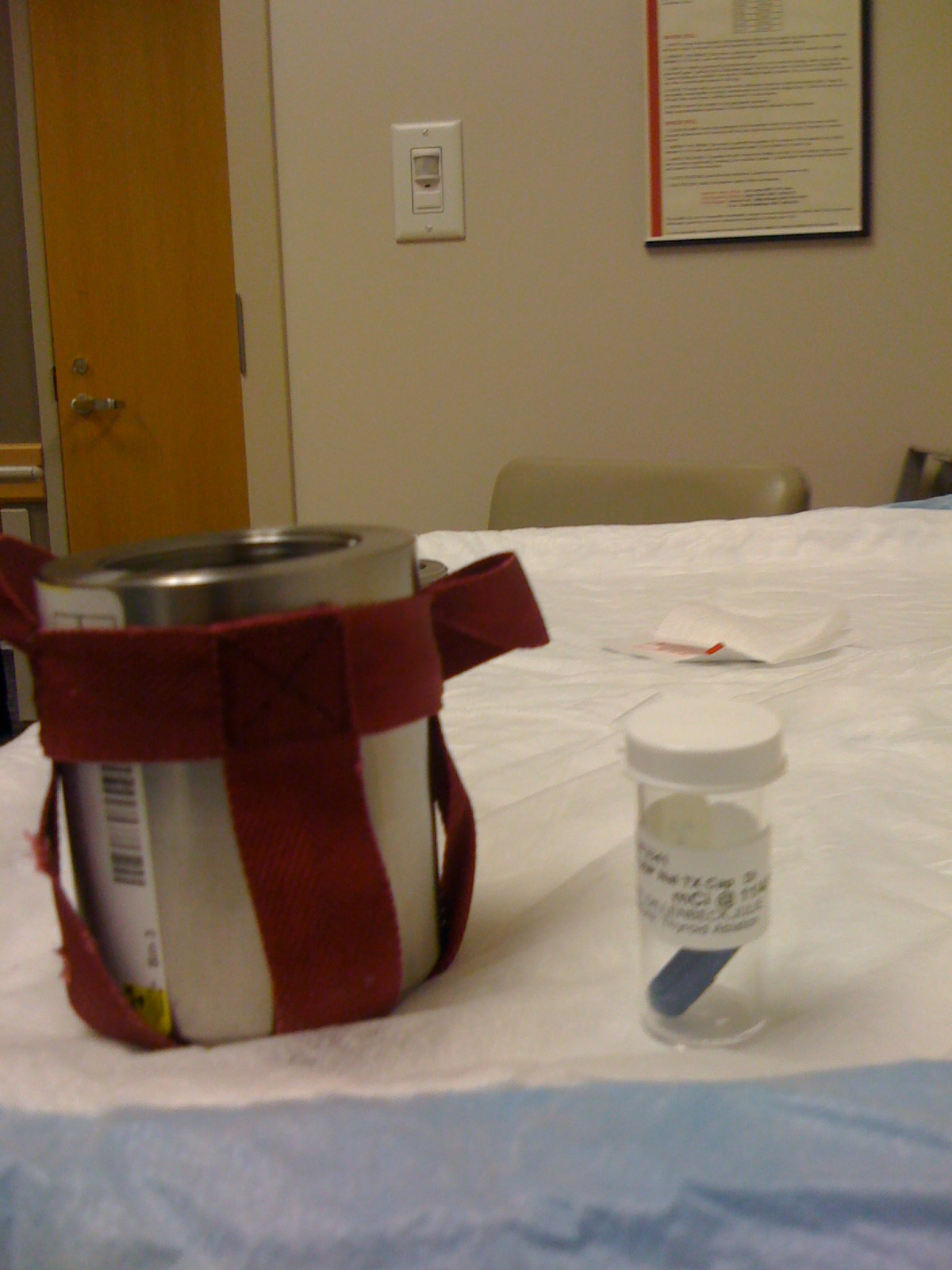 I had the treatment this morning.  I was more prepared this time and took pictures.  It is so surreal and feels straight out of the movies.  She went over all the instructions and protocol especially because it is a bigger deal this time.  Then she brought in the Titanium cylinder, placed it on the tray, and backed out of the room!!  She continued instructions from a good 10 feet away in the hall.  I snapped the pictures and swallowed the pill.  I then drove to my parents, settled in, made breakfast, studies scriptures (I love studying without interruptions!), sewed 5 rows to a quilt while watching an old TV series we watched when I was a kid.  Now I'm updating the blog.  Today has been delightful and I can't express my gratitude for feeling so good and gaining strength everyday.  After years of not feeling well and sometimes just surviving  I have trained myself that if I had a good day I would work and work and work because I didn't know the next time I would feel that good.  I just keep getting better each day right now and I want to just work and work.  If this is an indication of what my health and life is going to be like I will have to readjust and learn to have moderation.  What an awesome thing to have to adjust to, ENERGY!!!  It's been so long!
THANK YOU to all of you for your kindness and support.  Thank you for all the emails and comments it means so much to me.  Thank you to my ward for feeding my family.  Thank you for reading this blog.  Thank you to my family especially my parents and my Tom for all you are doing to help me and provide for me.   Tom, you are my hero and best friend.  Thank you for taking on all the responsibilities of the kids.  I  love you!
Thank you to my Heavenly Father and to my Savior Jesus Christ for all I am.  I know this miracle has been a work and a wonder from them.  This is so much bigger than I can do alone and they are blessing every moment of my days.